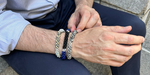 Park & Lex Launches a Men's Beaded Jewelry Collection
We're thrilled to announce the launch of our new handcrafted beaded bracelet collection, specially designed for the modern man. These aren't just accessories; they're statement pieces that reflect style, character, and individuality. With a nod to evolving fashion norms, this collection is a testament to the burgeoning trend of men embracing jewelry as an expressive form of self-identity.
Inspired by the bold and timeless colors of men's suiting, we've introduced silver accents and earthy, neutral gemstones to echo masculine sophistication. But these pieces are not confined to men alone! Ladies, here's your chance to expand your collection with our long-awaited silver pieces. Stay tuned as our founder and designer Dana shares more about the inspiration behind this unique collection in the following Q&A.
Shop this Tiger's Eye and Silver Bracelet here.
What kind of man did you have in mind when you were creating this collection of men's beaded jewelry?
I didn't have a particular kind of man in mind when designing the bracelets for this collection. Instead I spent a lot of time observing the kind of jewelry men are wearing and thinking about what I could add to their collections that would be both different and compatible. I wanted to create unique men's jewelry that men could wear as stand alone statements, or could combine easily with other bracelets they love to wear. It's really the same way I design for women.
Do you believe the societal norms and expectations around men wearing jewelry are evolving? How do you hope your new collection might contribute to or reflect this evolution?
Absolutely. Men's jewelry is having a moment, and I'm here for it! I've noticed all kinds of men wearing jewelry recently, from traditionally dressed to trendy, flashy to understated. Fashion in general is evolving to become more fluid and inclusive, which is a wonderful thing. People are beginning to fully express themselves without hesitation. I hope our beaded gemstone bracelets will be as much a form of expression and source of joy for men as they have been for women.
What were your sources of inspiration for this new collection of unique men's jewelry?
I looked at a lot of men's fashion and jewelry in general, as well as to the men I know for inspiration. I wanted to offer color palettes that felt masculine and sophisticated, so they would appeal to a broad audience and withstand the test of time. More specifically, I love men's suiting and I think this color palette was subconsciously inspired by men's professional and formal wear.
Shop this Grey Jasper and Silver Bracelet here.
What materials and gemstones have you found yourself gravitating towards for this collection of men's beaded jewelry, and how do they differ from those used in your women's line?
I've been wanting to introduce silver into our collections for a long time but always found myself choosing gold as an accent. I can't explain it, because there's no reason at all to consider silver more masculine than gold. But I just felt a men's collection lent itself perfectly to using silver. Conversely, I chose gemstone beads I use all the time - onyx, jasper, jade, tiger eye, lapis, amazonite - but leaned into matte finishes and earthy/neutral colors.
How do you want the men wearing your pieces to feel? What kind of statement do you believe your collection of men's beaded jewelry makes?
I hope that men will enjoy the chunkiness of our jewelry. It's not delicate and dainty, but dimensional and lovely to the touch. I hope they will find they can express themselves through the color and style of our pieces. I hope they will find joy in having something really different from the norm.
Could you share any highlights from the men's collection that you're particularly excited about, and why they hold special significance for you?
This wasn't intentional, and I can't explain why, but the colors in this collection feel really "New York". While the people in NYC are extremely "colorful," the city itself is not. The colors in this collection blend right in with the cityscape while also being sophisticated, elegant, and timeless. So without my realizing it, this collection is the most heavily inspired by and reflective of my surroundings.
Shop this Onyx, Jade, and Silver bracelet here.
Can women also wear these pieces? Any special tips for styling these pieces for women?
Of course! These pieces aren't just for men. So many women have been asking for silver for a long time, so this is a very exciting moment for our brand. Like all our bracelets, these can be worn on their own or stacked. Wearing gold and silver together is believed to be good luck, so these should definitely be paired with other bracelets in our collection.
What advice would you give to women buying jewelry for men, especially if it's their first time purchasing from this new collection?
Consider the man's hand size. Our L/XL is our standard men's size, but men with smaller hands fit comfortably into our M/L. (Remember, hand and wrist size are not the same thing. See our sizing guide for more info.) Also think about other bracelets he owns and choose a color (or colors) that will coordinate well.
Ready to shop our men's collection? Visit this page to view the new pieces. And don't be shy, ladies, it's for you too! We can't wait to hear what you think.