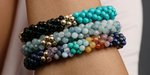 Choosing the Perfect Bracelet: Park & Lex Founder Dana's Guide to Style and Sizing
Bracelets are definitely a signature staple in Park & Lex's assortment of handcrafted jewelry treasures. What makes our bracelets so special, and how can you choose the right one for yourself or for a gift? Keep reading this Q&A with Park & Lex Founder and Designer Dana for the complete scoop.


Why are you excited about your bracelets, and why are they a staple in your assortment
?

These bracelets are the perfect way to add something special to any outfit. They're so easy to pair with anything, from minimalist neutrals to bold prints. They're also easily worn alone or stacked and are so comfortable.

What are your top tips for stacking your bracelets?

These bracelets can be stacked in so many ways:
Coordinate the colors of the bracelets: Let's say you love black and white. You could wear the

black onyx, howlite and gold bracele

t with the

black spinel and gold

and

grey pearl and gold

bracelets. Or you could pair the

labradorite, lapis and gold bracelet

with the solid

lapis and gold

.



Choose colors from your outfit and match your bracelets: If you're wearing a blouse with a purple, blue, and green floral print, you could wear the

amethyst, aquamarine, and gold bracelet

with the solid

jade and gold bracelet

, echoing all the colors in the blouse. Or if you're wearing a pastel sundress, you could pair the

white jade, turquoise, and gold bracelet

with the

morganite, aquamarine and gold bracelet

.



Contrast colors for a bold statement: My favorite way to stack is to pick favorite color combinations! I love pairings like the

ultimate rainbow and gold bracelet

with the

cherry quartz, citrine and gold

and the

turquoise and gold bracelets

. Or a more subtle pairing like the

rainbow, labradorite and gold bracelet

with the

African turquoise, lepidolite and gold

and

red garnet and gold

bracelets.

Can they be stacked with other pieces like watches and metal bracelets?

Absolutely! I wear two sentimental bracelets I never take off—a thin gold bangle that was my grandmother's and a chain with diamonds that was a gift from my mother. I wear beaded gemstone bracelets stacked with these every day.

How do you suggest styling bracelets with your other product categories, like necklaces and earrings?

My favorite thing about our jewelry is how easily you can wear all the different types together. It's easy to find coordinating pieces in each category. For example, if you love pink, you could wear our rhodonite and gold hoop earrings with our shades of pink color block necklace and rose quartz, lepidolite, and gold bracelet.

For someone who doesn't typically wear bracelets, why should they consider these?

These bracelets look chunky but are actually so comfortable to wear. People are always surprised by how flexible they are, and how nice they feel to the touch. (I always say this kind of beadwork is a very tactile experience.) Once these bracelets are on, you may not remember you're wearing them until they catch your eye.
They have a casual elegance that dresses up any outfit without being over-the-top. And the variety of gemstone beads offers something for everyone—no matter your style or favorite colors, there's something for you in the collection.

Should someone be worried about the bracelets being very delicate?

Yes and no. They're handmade with gemstones and thread, so they should be treated with care. But when taken care of properly (meaning, not exposed to water, perfume, lotion and other potentially disintegrating factors), they will last a very, very long time. They're forgiving, so you couldn't break a bracelet by rolling it onto your wrist or wearing it often. Some of my bracelets are a decade old and have had a lot of wear, but they still look new!

What tips do you have for storing them?

Treat them as you would any gemstone jewelry. They should be stored in a dry, protected place like a jewelry box. (But if I'm being very honest, I'll tell you that my personal collection sits on my dresser, so I can choose easily each morning.)

Do you think the bracelets would make a good gift? Why?

These make an excellent gift. At a fundamental level, I believe that handmade items make the best gifts because the energy, passion, and dedication (not to mention skill) that an artisan has put into making them is powerful. But specifically, the fact that these bracelets are so different from everything else on the market means that the recipient will have something really special. The option for customization means it could even be one-of-kind! The potential for adding to a bracelet stack for different occasions is also really fun.

How often do you refresh the colorways in your bracelet collection?

Certain colorways have been in rotation since the beginning since they're so popular. Others are retired when they don't get much attention, many of which have been surprising.
I officially introduce new colorways twice a year: once with the spring/summer collection, and once with the fall/winter collection, though occasionally I'll introduce something new at a different time because inspiration has struck.

How does the sizing work? How can I choose the right size for me?

Our bracelets don't "stretch", but they do have some give, which makes one size suitable for a range of hand sizes.
As you wear your bracelets they will start to give - like a well-broken-in pair of shoes. For this reason, we recommend erring on the smaller side.
Here's a breakdown of our sizing options:
Size S/M: For a hand measurement of 7-8 inches.
Size M/L: For a hand measurement of 8.5-9.5 inches.
Size L/XL: For a hand measurement of 10-10 inches.


Measuring Your Bracelet Size
:
To determine your size, you'll need to measure its circumference accurately. Follow these simple steps:
Bring all your fingers together as though you're putting on a bangle bracelet.

Use a soft measuring tape to measure the widest part of your hand (around the knuckles). If you don't have a measuring tape, use a ribbon and mark where the end meets the ribbon. Lay the ribbon down and use a ruler to measure from the end of the ribbon to the mark.

If you're between sizes, we recommend choosing the smaller option for a more comfortable fit, since the bracelet will stretch slightly. 


Custom Sizing
:
If you require a size outside of our standard range, we also offer custom sizing options. Please contact us to discuss your requirements and place a custom order.
Finding the perfect fit for your handmade beaded bracelet is essential to ensure both comfort and style. By understanding our sizing options, measuring your hand accurately, and following our tips, you can confidently select the right size for you. Should you have any further questions or need assistance, don't hesitate to reach out.