Exceptional Beadwork. Extraordinary color.
Park & Lex jewelry is a pure celebration of color driven by an obsession with gemstones and a dedication to craft. Each piece is handmade with love and intention in New York City.
We love turning your vision into reality. Because nothing is more meaningful than a unique piece of jewelry for yourself, a loved one, or your bridal party!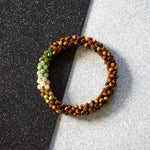 Zodiac Inspired
virgos are dependable in earthy brown
VIRGO (AUG 23 - SEPT 22)
Solid like the earth, brown represents strength, reliability, and sincerity. Virgos are one of the most dependable and sincere of all the zodiac signs, making them valued teammates, employees, and friends. Brown is also the color of comfort and warmth. Since our Virgo friend often dedicates her life to the care and service of others, brown is definitely her color!
Green, the color of health, and peach, the color of friendship and caring, are also powerful Virgo colors.
shop virgo
Something Special for the Man in your life
Shop Gifts for men
We Love Your Feedback
What Customers Are Saying
"I don't even know how to tell you how much I love these bracelets! They are heavenly, beautiful, wonderful, fabulous, and a bunch of other good things! Thank you so very much. so grateful for all the pictures of ideas you sent and your help in selecting just the right thing."

Tina, New Jersey

"You knocked it out of the park. It's beautiful."

Kate, Canada

"Love this! So happy with my custom necklace. Getting lots of compliments!! Thank you for your talent and expert guidance! Everyone should have one!!"

Eileen, New York City

"I just gave the custom bracelet to my girlfriend last night, and the reaction couldn't have been better. She adores the jade and lapis combination, and it fits perfectly. Thank you so much to Dana for making the whole process absolutely seamless and effortless! I will definitely be back!!"

Michael, New York City

"Hi Dana…OMG…received the bracelets and they are exquisite. I love them."

Kat, Wisconsin

"Thank you for all the notes in my orders. You are as thoughtful as you are talented."

Jenny, Tennessee
Explore
From beaded bracelets to necklaces and earrings, Park & Lex crafts narratives of beauty and uniqueness with each piece. But today, our spotlight is on...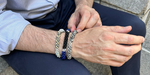 We're thrilled to announce the launch of our new handcrafted beaded bracelet collection, specially designed for the modern man. These aren't just accessories; they're statement...