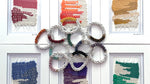 The Story Behind PRIDE MONTH COLLAB Product Bundle: PARK & LEX + REYNAN PUNZALAN
Celebrating the spirit of Pride Month, a remarkable collaboration was born from a simple conversation between two friends, Dana and Reynan, who shared a desire to create something truly meaningful and impactful together. As they combined their artistic talents, an extraordinary project unfolded, allowing them to give back to the community that had inspired them. With a shared vision in mind, they've decided to donate a generous 20% of the profits from their collaborative venture to the esteemed Queer Art nonprofit organization.
How It Started
The roots of this collaboration stretch back over two decades when Dana, the founder and designer of Park & Lex, and Reynan, a talented artist, first crossed paths at a summer camp for the arts in the vibrant heart of New York City. Their shared passion for creativity led them to work side by side as counselors, nurturing young minds and kindling their love for art. 
It was during those transformative summers that they discovered a unique bond, particularly through their enchanting "Exquisite Corpse" drawings, where participants take turns adding to a hidden body, unveiling a captivating masterpiece at the end. Throughout the years, Dana cherished these drawings, finding solace and joy in their shared memories.
Fast forward to the present, Dana and Reynan reconnected through the power of social media, their friendship seamlessly rekindling as if no time had passed at all. To their delight, they discovered that both had pursued careers in the arts, a testament to their unwavering dedication and creative spirits. 
Today, Reynan's work embraces the textures and materiality typical in native crafts while celebrating the bold and vibrant colors found in fashion. Reynan was born in the Philippines and raised in New York City. After pursuing art and architecture academically, he worked at Knoll for 15 years which further sharpened his eye and intuition for good design. He now splits his time between the city and upstate New York to pursue and evolve his art full time.
Fueled by mutual admiration and a deep respect for each other's work, their reunion naturally paved the way for a collaboration that would showcase their artistic prowess and shared history.
A Natural Partnership
Although Dana and Reynan work with different mediums, a myriad of similarities intertwines their creations. Both artists harbor an unwavering passion for vibrant colors, utilizing them to breathe life into neutral backdrops, whether it's a stark white wall or an ensemble shrouded in black. These hues serve as guiding beacons, shaping their artistic aesthetics. 
While Reynan deftly weaves intricate stitches on a small loom, Dana wields a tiny crochet hook, both mastering the art of fiber manipulation. Their pieces, individually or in groups, possess a captivating strength, capable of leaving a lasting impression. Texture is yet another element that unites their work, enhancing the depth of their color choices and imbuing their creations with a captivating dimension. Though their pieces may be replicated, the handwork involved ensures that each one remains uniquely one-of-a-kind, embodying the soul of the artist who crafted it.
The parameters of their collaborative project seamlessly fell into place, guided by an effortless understanding between Dana and Reynan. Embracing the universal color of white, they meticulously incorporated each of the 10 additional hues from the Progress Pride Flag into their magnificent bracelets and weavings. From the bold strokes of red to the tranquil tones of turquoise, their creations vibrantly showcase the entire spectrum of colors, testifying to their harmonious artistic synchronicity.
To offer an extraordinary experience, Dana and Reynan have thoughtfully bundled each colorway, uniting a bracelet with its corresponding weaving. These bundles represent the ultimate expression of love and meaning, making them the perfect gift for a cherished loved one or an exquisite addition to elevate your personal style and home decor.
It is with immense pride and joy that Dana and Reynan commit to donating 20% of all sales from these remarkable bundles to Queer Art, a non-profit organization dedicated to empowering LGBTQ+ artists through invaluable mentorship opportunities. By supporting this collaboration, not only will you acquire an enchanting piece of artistry, but you will also contribute to the growth and success of queer artists within the community.
These exclusive, one-of-a-kind bundles are available for a limited time only, until June 30th, 2023. Don't miss this extraordinary opportunity to own a piece of history while supporting a cause close to their hearts. If you're interested in exploring the entire collection or have any inquiries, please reach out to us. Together, let's celebrate the spirit of Pride Month and the power of artistic collaboration, forging a brighter and more inclusive future for all.