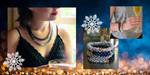 Elevate Your Holiday Style With Colorful Jewelry
'Tis the season to have fun with your style! The holidays are a festive time of year that beg for color, sparkle, and shine. If you're hoping to level up your casual holiday party looks or snag some designer accessories for cocktail parties, then you've come to the right place, since we're sharing our favorite tips and ideas for ice-melting beaded treasures. Continue reading this blog post for some guidance with your holiday party fashion.
Embrace the Colors of the Season
Some of our best holiday fashion tips revolve around color. As a brand that celebrates and embraces color, we love all the tones associated with the holidays, including reds, greens, blues, silver, and gold. Lucky for you, we have beaded gemstone bracelets and necklaces in every color of the rainbow, so you can either choose a holiday-ready color like green jade or stay neutral yet elegant with grey pearls.
Black Tie Beauty
Occasionally, you'll need to abandon the casual holiday party looks for something more formal and refined. If you've been invited to a black tie wedding or a Christmas gala, then you'll want to select something a touch more sophisticated than a jumpsuit or sweater dress. A dramatic black or silver gown is a classic choice for such an occasion. Just because you're embracing black or metallics doesn't mean you can't also accessorize with color. We have a black spinel necklace with a pop of turquoise-color moss opal or a black-and-white agate necklace with romantic magenta agate accents.
Complement the Champagne
Do you enjoy indulging in a little bit of bubbly for New Year's Eve? Holding a sparkling flute of champagne is a holiday mood that improves with the right arm candy. For holiday party fashion, we love styling a stack of our beaded gemstone bracelets with our favorite vintage. And we may or may not be showing off our bracelets whenever we raise a glass. The mini beads in our bracelets perfectly complement the dancing champagne bubbles, while gold accents match the tone of your festive beverage.
Get a Custom Look
The holidays are a special time, and sometimes ready-made items don't quite match your vision of holiday style. If you're seeking some very specific designer accessories for cocktail parties or need a statement look for a winter wedding, then you'll want to treat yourself to a one-of-a-kind treasure made just for you. We love creating custom pieces for our clients, and we have fun sourcing exactly the right color gemstone beads to match your desired palette. Contact us today to get started.

Do you already have your outfits planned for holiday parties and get-togethers? Do you enjoy using Pinterest or another visual planner to plot your holiday-ready looks? We'd love to hear about how you incorporate color into your apparel and accessories at this time of year. Tag us on Instagram @parklexnyc to show us your favorite holiday 'fits. We can even recommend some jewelry stacking and layering ideas to take you into the New Year and beyond.