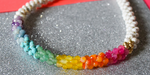 CUSTOM HANDMADE JEWELRY FOR UNIQUE HANDCRAFTED GIFTS
At Park & Lex, we absolutely love making custom handmade jewelry for our creative and inspiring clients! Throughout the years, we've had the chance to connect with so many customers by making their colorful customized jewelry dreams come true. Dana has designed and created some truly amazing custom handmade jewelry pieces, which have been enjoyed as gifts as well as for special self purchases.
Keep reading this blog post to learn more about handmade custom jewelry and to take a look at some of our favorite custom jewelry projects of all time. Perhaps they'll inspire you to start the custom design process as well!
Who Needs a Unique Custom Jewelry Gift?
Anyone who appreciates handcrafted gifts in general would greatly appreciate receiving handmade jewelry. The act of creating something by hand is valued and cherished by many because an object made by hand is usually unique and one-of-a-kind. Receiving a beautifully crafted object, such as a woven basket, ceramic vase, or painted planter is highly appreciated because it can't be purchased down the street at the local big-box store. And the same thing is true with handmade custom jewelry. These handmade pieces serve as a reminder of the love and dedication that went into their creation, making them all the more special.
Some Ideas for Giving Custom Handmade Jewelry
Dana's a sentimental person and holds a deep appreciation for jewelry that holds significant meaning and serves as a reminder of a particular event or relationship. For instance, if a couple visited a location during their honeymoon and were struck by the unique color palette of the surroundings, Dana could create a necklace that incorporates those colors as an anniversary gift. Alternatively, if two best friends each have a favorite color, Dana could design matching bracelets for them that would remind them of each other every time they wore them. The possibilities are endless, and Dana can almost always find a way to incorporate special meaning into a piece of jewelry.
Highlights in Handmade Custom Jewelry
Dana enjoys so many things about designing one-of-a-kind handcrafted pieces that are unique to her clients. She says, "First, I love a challenge. When a client has an idea I haven't tried before, whether it's a color combination or design, it pushes my creativity to new heights. I also genuinely love making someone's vision a reality. Color, design, even jewelry in general, are all so subjective. Creating the 'perfect' piece for someone actually feels like magic."
These are some of Dana's all-time custom handmade jewelry favorites:
1. Amethyst Necklace With Rainbow
This unique handmade necklace is long enough to wear doubled but also looks amazing when worn long. Dana chose the colors for the rainbow-colored section very carefully. The client didn't care for green, so Dana used it sparingly and instead added several different shades of magenta at each end to enhance the amethyst through contrast.
2. Labradorite Necklace With Turquoise
This handmade custom jewelry piece features labradorite beads with a special section in shades of turquoise, soft blues and gold. The client reached out to Dana after seeing an Instagram Reel where Dana had been experimenting with these colors and a mirrored pattern in a bracelet. She asked if Dana could use the same colors and design for a necklace, and the result was even more stunning than Dana could have imagined!
3. Bracelet and Necklace With White Tibetan Agate and a Bright Rainbow
The client for this custom bracelet and necklace set first ordered the bracelet as a gift for her daughter in law. When she received it, she was so happy with the outcome that she ordered a necklace to match! The recipient of this incredible gift has since messaged Dana to say how much she loves the set and that she's been wearing the pieces nearly every day since receiving them!
4. Bracelets for Best Friends: Amethyst with Lepidolite and Gold Accents and Olive-Toned Jade with Matte Black Onyx

"The bracelets are wonderful!! Appreciate your suggestions, guidance and the work to create them. Finally gave the amethyst bracelet to the "birthday girl" yesterday and she loves it!! Thank you so much."

The customer requested two custom bracelets from Dana. One bracelet was intended for the customer herself while the other was intended as a birthday gift for her best friend, whose favorite color was purple. The customer had a clear idea of using two different shades of purple for her friend's bracelet. However, the customer had trouble deciding on the design for her own bracelet. She was torn between using a deep green jade or a deep orange carnelian, both of which were strikingly different from each other. Dana suggested various options, including matte or shiny onyx. Eventually, they settled on using a matte black with the olive-toned jade. The customer was pleased with Dana's suggestion as they believed it would be a versatile choice.


5. Dumortierite, Tibetan Agate, Howlite, Yellow Jade and Gold Necklace

"You knocked it out of the park. It's beautiful. I had no doubts about it. You were so great through the process. I knew I was going to love it."

Dana was commissioned to create a custom necklace for a returning client who had a preference for necklaces. The client came across a black and white striped Tibetan agate in a necklace and bracelet showcased on Dana's Instagram Stories that had already been sold. This inspired the client, and they asked Dana about the possibility of combining the agate with navy blue, gold, and maybe black. Dana loved the idea and shared some images of bead choices with the client. Dana suggested the inclusion of white howlite to add a little something extra to the design. The client was surprised but delighted with the idea. Dana still felt like the piece needed something extra and suggested yellow jade. The client was initially unsure but ultimately delighted by Dana's suggestion.
Get Your Own Handmade Custom Jewelry Gift
Have you been toying with the idea of investing in a unique handmade necklace or other custom handmade jewelry piece? These treasures are appropriate for nearly every occasion. In fact, nothing feels quite as special as having something no one else has, something that's uniquely yours. Creating a custom design for yourself means you can have it exactly as you want it. Similarly, creating something for a loved one with their favorite colors, or colors that are meaningful to you both, is the ultimate gesture of thoughtfulness. If you don't see your desired gemstones or colors already on our site, Dana would be happy to try to source it for you.
What If You're Unclear About Your Custom Handmade Jewelry Design?
Dana has no problem working out the details with our clients, as part of the fun lies in the process of collaborating on a unique handcrafted gift design. It's not uncommon for clients to come to us with vague ideas, but through conversation and exploring different bead combinations, we always arrive at a moment where the client knows they've found the perfect design. This moment of realization is incredibly satisfying for both the client and us, and it's one of the many aspects of custom jewelry design that we enjoy.
How Will I Know They'll Love Their Unique Handcrafted Gift?
We understand the hesitation that may arise when purchasing custom bracelets as gifts. However, we assure our clients that we guarantee the bracelets, and if the gift doesn't fit, we will adjust it once free of charge. In case the client is unsure of the recipient's preferred style and colorway, we offer the option of purchasing a gift certificate with a specific dollar amount or a custom category such as "necklace," "bracelet," or "earrings," to be charged to the client later. This way, the recipient can choose their preferred design themselves. However, we would also advise trusting oneself, as a thoughtful custom gift given from the heart is sure to be loved.
Share Your Vision for Handmade Jewelry Designs
Some of our clients say the most challenging aspect of sharing their vision for a custom piece may be knowing how to best communicate it. Finding the right words can be difficult. In that case, visual aides are usually very helpful. One of Dana's all-time favorite custom orders began as a request to create a necklace inspired by frangipani flowers! The client sent Dana a mood board of photos as well as her desired color palette with the hope that Dana could evoke the feeling of these vibrant flowers. It was so inspiring!

But this kind of detail isn't at all necessary for a customized, handmade jewelry design. Describing the color palette you want or pointing to existing pieces in the ready-made Park & Lex collection are excellent ways to start.

To start the customization process, simply reach out to Dana with your initial vision, even if you've only formed a partial idea of what you'd like. As mentioned above, Dana loves a challenge, so no project is too complex or daunting. Contact Dana here.