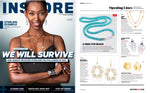 WE'RE FEATURED IN INSTORE MAGAZINE!
"The hand-stitched gemstone bead pieces of the Park & Lex Bleecker Street Collection are casual boho couture at its finest. These cheerful beads are sewn together for a marvelously textile experience, creating bright, flexible gemstone ropes that caress the skin with a playful, satisfying texture. Eye-catching and a joy to wear."
Becky Stone, InStore Magazine
See our beaded necklaces here.