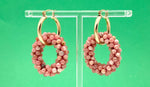 Park & Lex Beaded Ring Earrings Are Here!
The wait's over! Clients have been begging for colorful and bold earrings, and Dana's found a way to deliver some exciting and eye-catching new styles. Statement earrings are a top trend for 2023, and they're also an excellent way to upgrade any outfit without much effort. If you're hoping to take your day-to-day style to new heights, then these earrings are for you.

Keep reading to discover why Dana has decided to launch this exciting new product category and for tips about how to style the beaded ring earrings.


Why did you decide to introduce the earring category? What inspired you?
Clients have always asked about earrings. As someone who doesn't leave the house without them, I knew earrings would eventually become an integral part of the collection. But because of the rope-like nature of the beadwork, I wasn't immediately sure how I'd be able to translate that into an earring design. Fortunately, I love a challenge!



How many new styles and colors are available?
There are currently five styles available, each made with a different color gemstone. Since this is a new category for Park & Lex, I wanted to start with a limited assortment and see what resonates with our customers. But this also means that the current selection is highly customizable, and we can easily create any style in your gemstone of choice!


How do they feel? Are they heavy?
I have tiny earlobes and low holes, so weight is always a consideration for me. I knew that the larger styles would be on the heavy side, but even I'm surprised by how comfortable they are! Because the weight is balanced, they don't actually feel heavy.



What are the ear wires and components made of? Will they irritate sensitive ears?
I always use gold-filled - NOT gold-plated findings - in my designs. Gold-filled means there's actually a thick sheet of 14K gold fused on top of a brass core, so it doesn't tarnish or wear away over time. It also means that the only metal touching your skin is 14K gold, so they should be safe for even the most sensitive ears.

Are the beaded rings "stiff"?
They're not. I make these with the same technique I use for the necklaces and bracelets, so the resulting piece is pliable. I love playing with the rings and molding them in different ways. Each time you wear them, you may want (or need) to work them back into a perfect circle or elongated oval.



How do you think the new earrings fit into the statement earring trend?
I think we're right on trend! It's been so exciting to see statement earrings making a huge comeback, so we're right in style. Even though our earrings are big and colorful, their sleek design makes them modern.

How would you recommend styling these earrings?
My favorite thing about these earrings is that they can easily be worn on their own or paired with other jewelry from the Park & Lex collection. I would wear the larger earrings on their own with nothing on the neck, and maybe with a coordinating bracelet if you want something a little extra. But the smaller earrings - especially the Small Aquamarine Rings - would look beautiful with a beaded necklace worn doubled.



What tips do you have for storing them?
The same care should be taken with the earrings as with all the jewelry in the collection. They should be kept dry and away from perfume, lotion, hairspray, and other abrasives. They should be stored in a pouch or individual compartment of your jewelry box.

If you could get these earrings on any celebrity or well-known person, who would you most like to see wearing them?
This is a tough question! So many celebrities would look amazing in these, but two come to mind immediately. The first is Blake Lively. Her style is always fearless yet so well put together. She often wears bold statement earrings with a colorful and eclectic ensemble, so I think these would suit her perfectly.

The other celebrity is Trecee Ellis Ross, who I regularly see wearing an elegant dress in a stunning color accessorized with just a pair of fabulous statement earrings. I love the drama her look would bring to these!



Will you be introducing other earring styles in the future?
Absolutely! I'm already working on other designs and color possibilities. I would love to know what YOU would like to see, so please don't hesitate to contact me with ideas!

I prefer post backs over earwires. Do you make a version for me?
Of course! All the earring styles are also available with post backs if you prefer those over earwires. Please contact me if you have a request.

To shop all the new earring styles, visit this page.