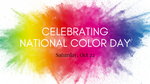 Celebrating National Color Day With Colorful Beaded Jewelry
The painter Wassily Kandinsky once said, "Color is a power which directly influences the soul." We believe that sentiment wholeheartedly. Not only does color impact your emotions, but it also empowers you to express who you want to be to the world. We love colorful beaded jewelry, and Dana uses color very intentionally in each one of her jewelry designs.

Color is so impactful that it even has a day dedicated to it. On October 22nd, National Color Day is observed. Even though it was originally established in 2009 as part of a promotion for a new car, it still resonates today with people everywhere as a time to admire the myriad of colors in the world and relish in the joy of a colorful life.

To celebrate National Color Day, Dana has decided that she'll be building a necklace color by color (two new colors each day), and she'll be revealing the finished piece on October 22nd. If you'd like to see some colorful statement jewelry (and possibly claim a new treasure for yourself), then follow Dana's journey on Instagram.

What are some ways that you can also celebrate National Color Day?
1. Wear a Color Outside of Your Comfort Zone
Do you feel nervous about rocking a lime green sweater because you're afraid it's too "loud"? Do you shy away from pinks and purples because they're too "girly"? National Color Day presents an excellent opportunity to revisit a color that may have made you nervous in the past. A single piece of colorful statement jewelry, even with a neutral outfit, is a safe way to experiment with color if you're not sure how to get started.
2. Create Some Art
In art, you can experiment with color and have fun with it while relaxing and putting yourself in a "flow state". Whether you choose painting, drawing, or some other mode of artistic expression, you can lean into your intuitive feelings about color and let your creativity flow. If you're not the artistic type, then you can always visit a local art museum and appreciate how artists of all types incorporate color into their masterpieces.
3. Use the #NationalColorDay hashtag
If you're active on social media, or you have a business that you promote on social media, then you'll definitely want to join the fun by tagging your colorful post with the #NationalColorDay hashtag. You can also browse the posts filed under this hashtag and see how everyone else is celebrating the day as well.
4. Connect With Others
Do you know your partner or best friend's favorite color? When was the last time you noticed the colors that you look best on someone you love? Color can be an excellent way to connect with the people who mean the most to you. Ask someone about their favorite color or compliment a stranger who's wearing a color that looks great on them.
Would you like more information on this topic?
Sign up
for our email list and immediately get a free PDF download of our ebook "Using Color to Change Your Mood". In this ebook, we explain the emotional resonance of many colors and then provide tips for adding color to your wardrobe, especially with colorful beaded jewelry. If you've always shied away from color because you're not quite sure how to style it, then this ebook is for you.